Cooking in Tuscany | Vol. I
A sublime spin on tiramisù
Nonna's zuppa inglese is always a welcome treat at our family dinners.
We're delighted to share this heavenly dessert with you.
The Origins of Zuppa Inglese
What in the world is zuppa inglese you ask? Literally translated it means 'English soup.' However this is quite misleading as zuppa inglese is closer to an English trifle than a soup and a bit more like tiramisù.
The history of zuppa inglese varies. There are several theories and explanations for how this favorite dessert came to be.
According to La Cucina Italiana, zuppa inglese is most definitely a Tuscan-Emilian recipe, seemingly created in the year 1500. A recipe 'born in Parma thanks to a Roman chef who was inspired by a Lombard dessert, and then modified under the influence of an older Tuscan recipe'. We'll agree it is definitely Italian!
You'll find many recipe variations for zuppa inglese (feel free to add your own twists) but this is how it's made in our Tuscan family. We enjoy this refreshing dessert after meals and love to indulge in any that's left over for breakfast!
Now let's don our chef hats and begin, shall we?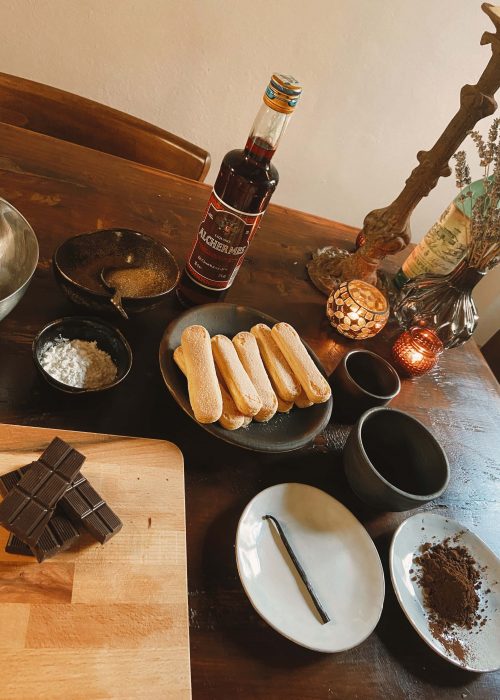 ZUPPA INGLESE INGREDIENTS
1 package lady fingers
2 cups whole milk
2 eggs
4 tablespoons raw cane sugar
2 tablespoons corn starch
1/2 vanilla bean
80 grams dark chocolate, finely chopped
1/2 cup Alchermes liqueur (substitute Grand Marnier with a splash of grenadine for color)
Cocoa powder
___________
Makes 8 Servings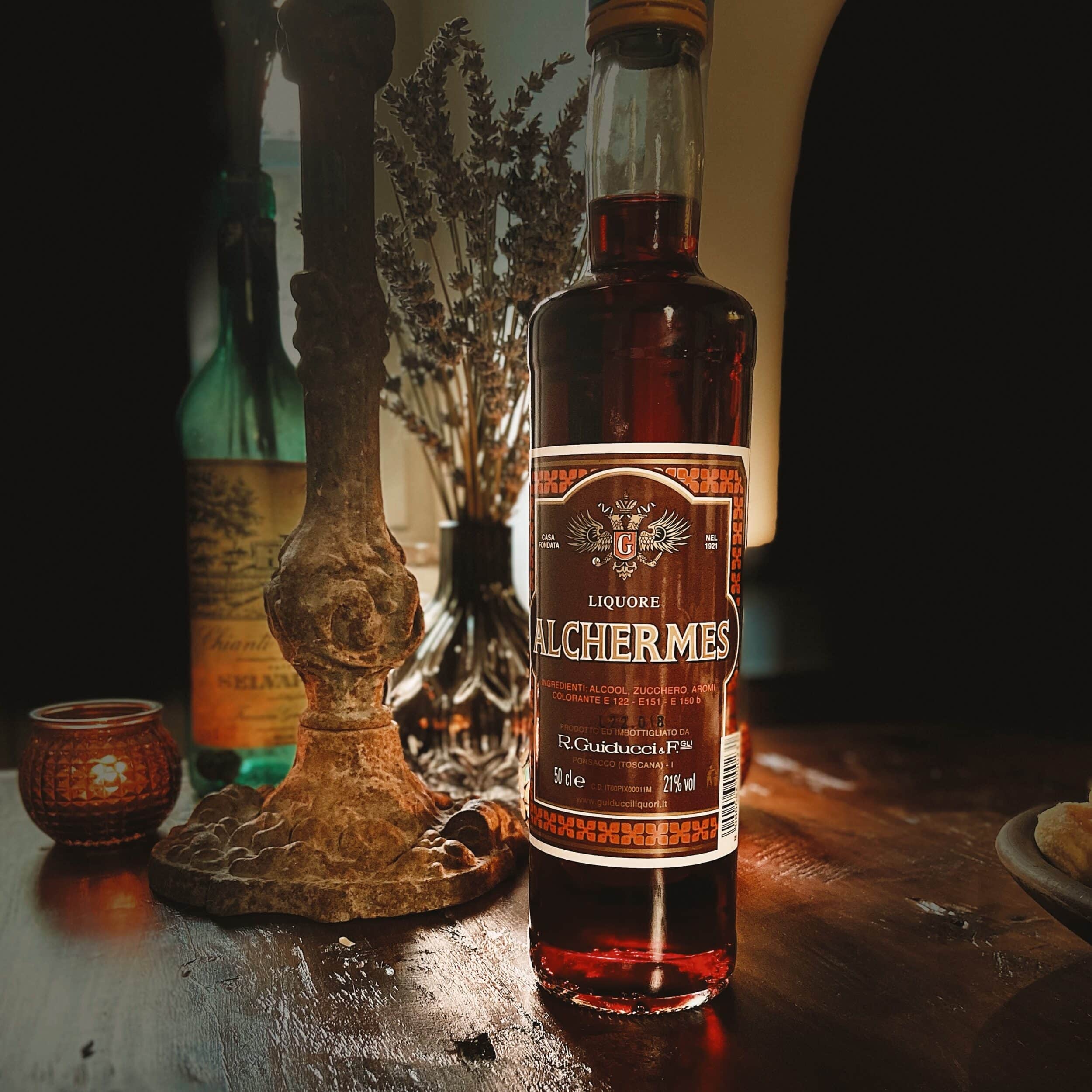 Alchermes is a sweet liqueur from Florence, famous for its bright pinky red color. The unique blend of anise flowers, cinnamon, cloves, coriander, jasmine, nutmeg, orange peel, and vanilla create fabulous flavor!

HOW TO MAKE ZUPPA INGLESE
1. Add eggs, sugar, and cornstarch to medium bowl and whisk until combined and smooth.
2. Heat the milk in a saucepan. Scrape out the inside of the vanilla bean and add to the milk. Bring just to a soft boil and immediately remove from heat.
3. Very slowly pour the hot milk over the egg mixture while whisking vigorously to prevent the egg from cooking/turning into scrambled eggs.
4. Add the mixture back to the saucepan on low heat and whisk constantly until thickened to custard consistency, about 5 minutes. Remove from heat and add half the custard to a separate bowl.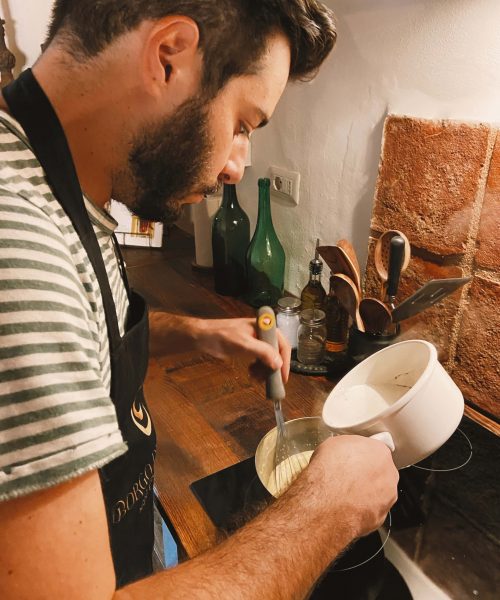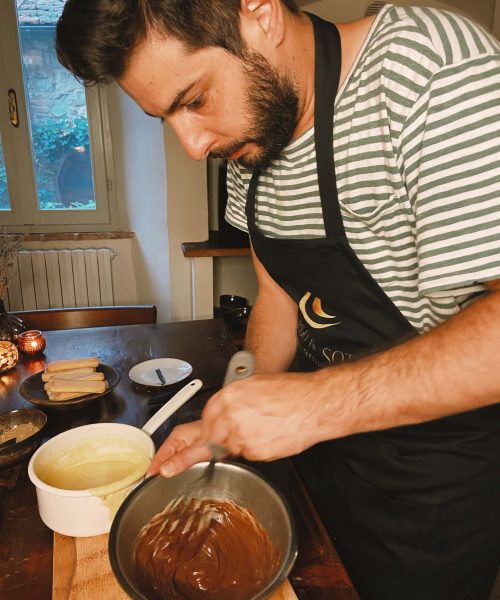 5. Add the finely chopped dark chocolate to one of the custard bowls and whisk until melted and smooth.
6. Add Alchermes liqueur plus 1/2 cup water to a bowl.
7. Drop one lady finger at a time quickly into the Alchermes, flip quickly to the other side and then layer into the bottom of a serving dish at least 7 cm high.
8. Add a layer of custard on top of the first layer of lady fingers.
9. Add a layer of chocolate cream on top of the custard.
10. Repeat the dipping of the lady fingers in Alchermes, layering into the dish, adding a layer of custard then finishing with a layer of chocolate cream.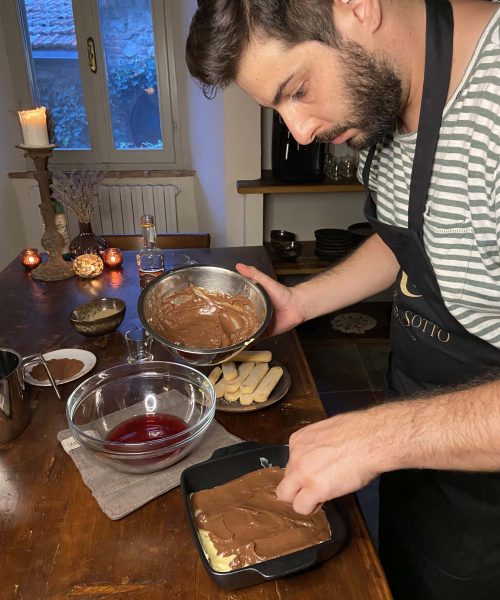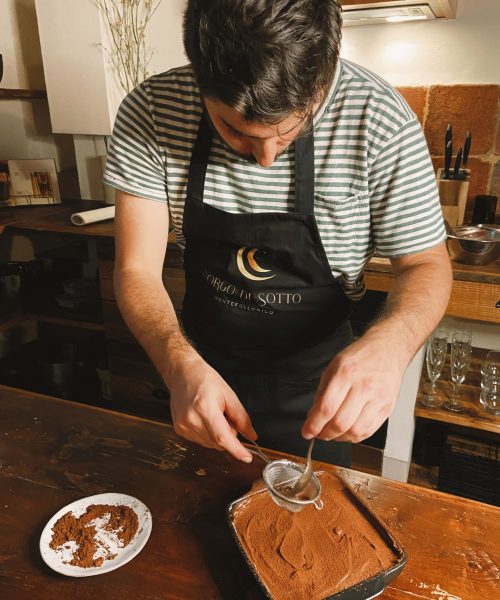 11. Lightly sprinkle the top with cocoa powder through a sifter.
12. Let the zuppa inglese rest in the refrigerator for at least two hours to let the flavors meld. Let sit out for 10-15 minutes before serving.
13. Serve and enjoy the deliciousness of zuppa inglese made with love!
In collaboration with Imaginaria Events, we are delighted to offer day tours which include
cooking classes, wine tours, and week-long Tuscan food & wine tour experiences.
Please join us for the Tuscany experience of a lifetime!
See our Day Tours and Celestiale pages for information.